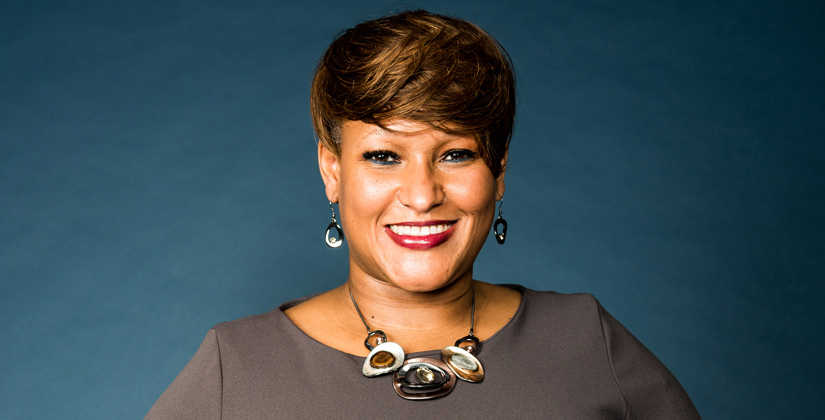 Teleange′ was named Chief Advancement & Relationship Officer for JumpStart in January 2021, where she is responsible for leading JumpStart's strategic fundraising initiatives, strengthening partnerships and spearheading the organization's involvement in civic initiatives including the Cleveland Innovation Project, the MidTown Innovation District and other initiatives JumpStart anticipates pursuing in the coming years. Accumulating almost twenty-years in nonprofit management, philanthropy and racial equity work has made her an impactful leader and trusted broker in the community.
Prior to joining JumpStart, Teleange' Thomas served for five-years with, Foundation Center Midwest, (now Candid) as the Director of Partnerships- Midwest deepening the organization's impact in thirteen Midwestern states through comprehensive data, training and insights on the social sector to help non-profit professionals, grant seekers and the philanthropic organizations that fund them be catalyst for change in their communities. A seven-year tenure as the Program Director, Health for the Sisters of Charity Foundation of Cleveland; overseeing strategies to reduce health disparities among vulnerable populations through strategic grant-making, systems and policy change and five-years in leadership roles with the City of Cleveland, Department of Public Health.
In addition, Ms. Thomas she is the co-architect of The Soul of Philanthropy Cleveland, Celebrate Those Who Give Black and The Cleveland Black Equity & Humanity Fund.
Always entrepreneurial, Teleange′ is the founder of Plattforms LLC., a women and minority owned firm that specializes in the design, startup, and sustainability of social change projects and initiatives to improve humanity through socio-economic opportunity and solutions; particularly aimed at elevating people, places and ideas that impact people and communities of color.
Teleange' is a graduate of Case Western Reserve University. She is a board of director for Green City Growers, The Conservancy of Cuyahoga Valley National Park, the Cleveland Public Library and Policy Matters Ohio. She is a Fellow of the Robert Wood Johnson Foundation, is a member of Zeta-Phi-Beta Sorority Inc.,(Inactive), The Order of Eastern Star (Active) is published in numerous professional journals and academic publications and has earned a host of awards and honors for her service and leadership.